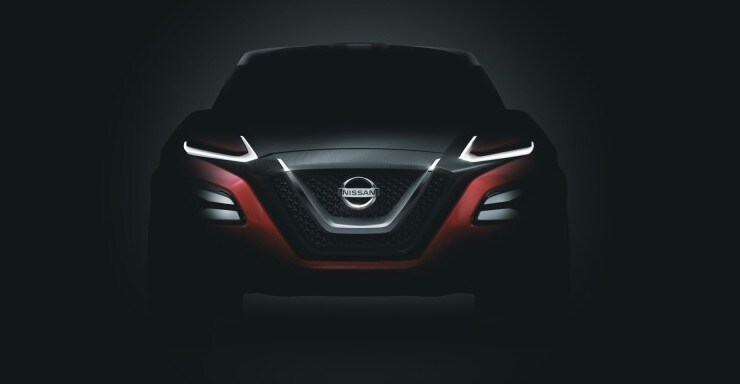 FRANKFURT - Designed to build on Nissan's pioneering Crossover leadership, Nissan's Gripz Concept will make its global premiere at the Frankfurt Motor Show. Inspiration for the Nissan Gripz Concept came from the legendary 240Z desert racers as well as the sleek two-wheel world of road cycling. The design explores a new sporty direction for a Crossover concept and was conceived to create an innovative new driving sensation.
The world premiere will take place at the Nissan stand on September 15, 2015. Stay tuned for more innovative Crossover thinking from Nissan.
About Nissan in Europe
Nissan has one of the most comprehensive European presences of any overseas manufacturer, employing more than 17,600 staff across locally-based design, research & development, manufacturing, logistics and sales & marketing operations. Last calendar year Nissan plants in the UK, Spain and Russia produced more than 675,000 vehicles including award-winning crossovers, small cars, SUVs, commercial vehicles and electric vehicles, including the Nissan LEAF, the world's most popular electric vehicle with 96% of customers willing to recommend the car to friends. Nissan now offers a strong line-up of 23 diverse and innovative models in Europe under the Nissan and Datsun brands.
About Nissan Motor Co.
Nissan Motor Co., Ltd., Japan's second-largest automotive company, is headquartered in Yokohama, Japan, and is part of the Renault-Nissan Alliance. Operating with more than 247,500 employees globally, Nissan sold 5.32 million vehicles and generated revenue of 11.38 trillion yen (USD 103.6 billion) in fiscal year 2014. Nissan delivers a comprehensive range of more than 60 models under the Nissan, Infiniti and Datsun brands. Nissan leads the world in zero-emission mobility, dominated by sales of the LEAF, the first mass-market, pure-electric vehicle and best-selling EV in history.
Date posted: September 11, 2015