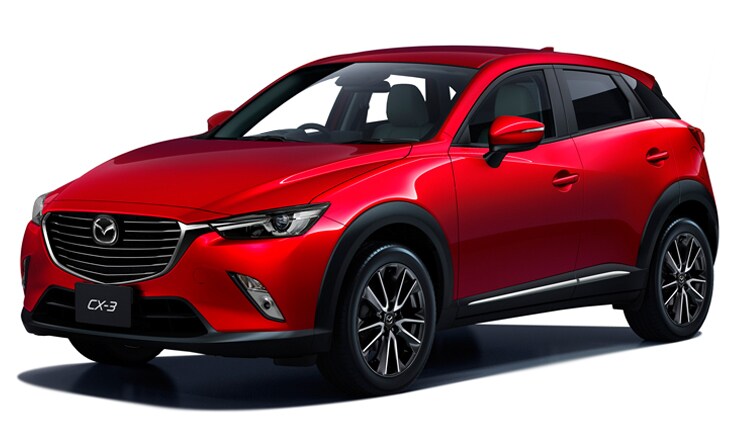 The compact utility vehicle (CUV) market has been gaining more converts as these sporty crossover vehicles are being recognized as a way to continue the love affair many drivers have with their SUVs without emptying their wallets on fuel. The 2016 Mazda CX-3 is a prime example of the quality, style and fun that can be found in subcompact crossovers.
The exterior of the Mazda CX-3 is highly praised for the beauty of its design. Cleverly created to look sleek and sporty from every angle. The outer shell is both aggressive and luxurious and has been described by many as bold, feisty and interesting. The unique appearance makes it instantly recognizable as its own vehicle, but it retains enough of the traditional Mazda features to make it look like party of the family. LED headlights, a sunroof and 16-inch and 17-inch alloy wheels are additional options found on Touring models.
Plenty of thought has been spent on the interior as well, so shoppers lured in by the handsome exterior features will not be disappointed. The cabin is luxurious in look and feel with a wrapped dashboard and contrast stitching. Depending on the model purchased, there are a long list of features available. A 7-inch color touchscreen display, Bluetooth phone and audio streaming are found on the Sport Model. Heated seats, and a Bose seven-speaker audio system are included with the Touring and Grand Touring models as well as a heads-up display and navigation system.
The 2016 CX-3 maintains its level of quality in its performance as well. Their i-Activesense safety bundle comes with alerts for lane departure and cross-traffic as well as automatic braking features. Additional extras include rain sensing wipers and an adaptive cruise control.
Passengers can expect a comfortable ride as the solid unibody structure, front struts and rear torsion-beam axle keep everything running smoothly and efficiently. The Mazda CX-3 comes with a 2.0 litre four-cylinder automatic with a fuel economy that puts it at the top of its class. Rated at 10L/100K city and 8.0L/100K highway (slightly less for all-wheel drive models), it is genuinely the economical crossover that vehicle buyers have been seeking.
This CUV offers a vehicle with a sporty appearance, adequate cargo space and a smooth ride. As a compact, it lacks the height SUV drivers have come to expect, but its comfort and appearance are certain to win over any doubters. It is a flattering edition to the modern Mazda line and one that is certain to resonate with many who are searching for the perfect blend of affordability and style.
Date posted: June 17, 2015